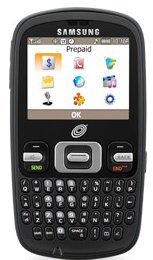 The new Samsung R355C from Straight talk
This new CDMA phone from Samsung has a great QWERTY keyboard.
Issues viewing mobile facebook on the is phone are known with messages such as "unsupported content type" appearing. If anyone has a solution to this browser problem let us know!
Specs:
Bluetooth
2.2' LCD screen
Full QWERTY Keyboard
CDMA (No Sim card)
1.3 Mega Pixel Camera
MicroSD Slot
MP3 Player
Picture manager
Voice commands
64MB Internal memory
TXT/Picture message
Speaker phone
3.5mm Headphone jack
3.7Volt Li-ion Battery 3.55Wh
Web-Browser
Operates on Verizon network
Talk time 5.5Hours
16.7 Hours standby
Straight Talk Cell Phone Review, of the R355C.
This phone is has the same featrures as the R451C, apart from size and screen
The Internet access is slow CDMA X1 (it's not 3G) but it's very relieable.
The phone can be used in any US state or any US ZIP code, there are no roaming fees!
I recommend this phone highly for anyone who wants a basic internet connection without download or calling limits
The phone looks a bit like a Blackberry.
More information at www.straighttalk.com
Guide to make your own free ringtones on Straight Talk Samsung Phones!
Score: 8/10
Straight Talk Samsung R355C Manual Download
This added by Rev My:
StraightTalk Samsung r355c review:

Pros:
Feels good in the hands, rubberized sides.
Decent 1.3mp camera, with all the little things like zoom, effects, frames, etc.
Very good mp3 player with up to 16gig memory expansions (mini sd)
Lightweight, slim design, its the size of a current model BlackBerry
EXCELLENT battery life
You can use your mp3s as ringtones.
Texting sending/receiving is fast
No adapter needed if you want to listen to the music player with headphones (standard 3.5mm jack)
Easy to lock keyboard (one button for instant lock)
Voice Command Feature (good or bad I don't know, I don't use this feature)
$45 a month unlimited talk (day/night/whenever), unlimited text, unlimited web
or $30 for 1000 mins, 1000 texts and 30mb of data usage (internet)
You can switch between these two plans when refilling your service.
No contract, thus no cancellation fees
No activation/reactivation fees
Super easy activation via straighttalk website (you can call a number to do this too)
Transferring number from one StraightTalk phone to another is SUPER easy.
Free 411
Verizon Network Coverage
BlueTooth
Standard Memopad, calendar, calculator, alarm clock, world time, various converters, stopwatch, tip calculator
Call and data timers (very helpful for keeping track of usage on the $30 plan)
So far no problems with dropped calls or losing a signal (at least none I've noticed/experienced)
1000 Contacts capable
Up to 999 speed dials are able to be set. (numeric only, unable to set speed dials for letters, like on the BlackBerry Curve)
Screen navigation is fast, not sluggish
Good or Bad I don't know but side key for camera requires is not instant, takes a second to register for camera to activate.
Speed keys on the keyboard to access: voice command mode, vibrate on/off, calendar, phone lock
Self-portrait mirror for camera (no flash)
Standard side keys for volume adjustment on the fly

Cons:
Call quality is questionable, not as clear as other phones, ok for quick calls but for long conversations... makes it hard to understand at times.
The internet (wap) is slower on this phone then others, still works but just a tad bit slower, takes longer for pictures to download on the websites.
Unable to adjust how long til auto-lock takes affect.
Backlight dims but doesn't completely shut off til after about 60 secs. but with the excellent battery life its not really an issue.
You can't download pics off the internet.
No voice recorder for making homemade ringtones.
Unable to custom text on display screen (helpful for putting your StraightTalk renewal date)
No games (preset or for download)
Unable to download additional apps
No video recorder
Keys are small, but no smaller than a BlackBerrys.
Unable to customize quickkeys or move icons around.
When you receive a text after locking your keyboard you have to unlock it in order for the keyboard to light up (for sending replies at night), you can still read the text message though.
Actualy ring volume isn't as loud as other phones.
TracFone branding when you start the phone up and TracFone Circles logo on the front of the phone (below screen)
Slight delay between clicking to take a picture and the picture actually being taken. (longer than other phones, but not unusual for some digital cameras)
Good or bad I don't know but when on the internet, text messages do not interrupt your browsing session.
When you unlock the phone, the screen remains dim until you do an additional key press (instead of instantly bright)
No countdown timer
NO auto-complete for text
Screen is hard to see when outside in the sun (versus some other phone screens), is find inside a car and inside a building.
No sim card usage for transferring contacts/data to new phones.
Unable to choose where to save photos after you immediately take them (phone or memory card, but you can move them after you take the picture)
Various ring levels, from silent to loud, including vibrate, but no single "beep" tone.
Battery cover is thin and awkward to put on (you may end up "snapping" it in place the first few times)
Only available in black
Unable to change layout or options on display (time/date/etc all stay the same, but are non-instrusive)
Thanks Rev!