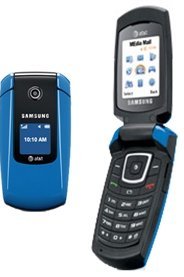 Samsung SGH-A167 Prepaid Cell phone from AT&T
Review:
This GSM phone from Samsung is small & basic. It feels good to hold & seems to have good battery life during our tests. The way the clam shell opens and closes is smooth. I would reommend this phone to someone who wants basic phone services, the phone signal was weak... but this is because the provider has poor coverage outside city limits (ATT Coverage Map).
The camera: is crap, 640 x 480 and is very bad quality
The sound during a call: is good very smooth and clear.
The Keypad: Feels good, buttons are soft with a firm click when pressed.
It has a great blue cover, that cannot be changed.. but why would you want to? Blue is the new red!
SPECS:
Frequency: 850/1900MHz
Data Transmission: GPRS Class 10
Standard Battery: 800mAh Lithium Ion
Dimensions: 3.54" x 1.83" x 0.78" (standard battery)
Weight: 3.1 ounces (standard battery)
Display: Internal - 128 x 160 Pixel, 64K CSTN
External - 96 x 96 Pixel, Black and White
Weight: 3.1 ounces
Dimensions (HXWXD) 3.54" x 1.83" x 0.78"
Resolution: 96 x 96 Pixel
Battery: Samsung 3.7Volt Li-ion 800mAh Model AB463446BA
Talk time: 3 Hours
Standby: 252 hours
FCC ID: A3LSGHA167
Features:
Voicemail
Caller I.D.
Call Forwarding
Call Waiting
Number Redial
Last 30 Outgoing, 30 Incoming, and 30 Missed
Pause Dialing
Call List
Automatic Redial
Phone Number Storage, Retrieval and Dialing
Emergency Calls
Call Timers
CALL MANAGEMENT AND SERVICES
Package:
Handset
Standard Lithium Ion Battery
English and Spanish User Manual
Travel Charger
Phone and Feature Guide
Score: 6/10