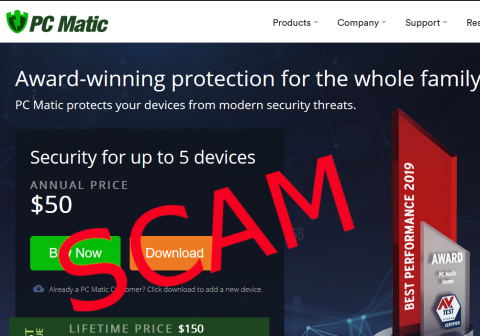 You would be under the impression that it would be hard for scam software to be distributed in 2020, but there is a fake anti-virus software that is still being distributed called PC Matic also known as (PC Pitstop). The PC Matic scam has been running for nearly 2 decades and has been installed by countless victims. The PC Matic software is known to corrupt computers, and have little to no phone support. Here is one story from the BBB from one customer:
After reading the bbb reviews, I purchased PCmatic for my Mac yesterday. Upon download, the program was corrupted and Apple security would not allow it to be opened. Apple said, "Contact the developer." This company has ZERO telephone support, only trouble tickets by email. I did not receive confirmation of them receiving my ticket. It has been 24 since I purchased their product with no response. I even called the business administrator at bbb's provided number, left a message and received Zero support. In a nutshell, PCmatic appears not reputable nor do they have 7 day a week support as claimed. I will follow up after attempting to recover my $50.00
This is just one of the reviews on BBB that have been not taken down yet. The fact that this company has a BBB rating of A+ rating is more proof that BBB is flooded with paid reviews to boost ratings. Better Business Bureau has no relevance in today's modern age.
PC Matic claims to be American Owned, but from reviews online there is some suggestion that any phone support is completely run out of India.
His response was only: got to your local computer store for help and he hung up. (Very unprofessional) I called just a 2. time and someone (from India) called back, very rude and again very unprofessional, criticizing at first my English and telling me to go back to school and to visit a Doctor.
The software that is install claims to fix your computer, many say they have been infected with ransomware:
I can't get on my computer so how can I contact them for help. Since I need to be in front of it to follow their instructions to fix it. Also, while using their product I've been infected with a ransomware apparently and can't login. So at the time I need them most, they're useless!
Beware of not being able to get out of the auto-renewal too:
Too bad there isn't the avenue to go less than 1 star. I am extremely disappointed. This bunch does not do what they say. I joined a year ago and this program messed my computer up. I immediately called for refund. I got a voice mail promising a call back. Never got it. This year they charged me on auto renew which I had cancelled. I called 4 days in a row. Still haven't heard from them. I called my cc co and the charges will not be allowed. I recorded all my calls too. .
This too:
Pcmatic is a crook. I had cancelled service 3 years ago. Changed auto-renewal to off, but still get charged every year.
The countless BBB 1 star reviews are buried under fake reviews, by names like John, Steve and Ann.
To protect yourself from charlatan's that make software like PC Matic in 2020, ask a technician what they are using, the self-research avenue is dangerous. Below are some well known sources that can help you for free that techs use in the US.
Technician Trusted Sources (They are free too):
Free AntiVirus: AVG Free
Free Firewall: Tiny Firewall
Free Drivers download: OEM Drivers
Free Malware scanner: Spybot