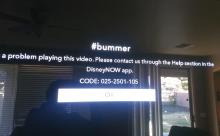 The Popular DisneyNow Application for Roku/Apple/Playstation TV etc… will sometimes bring up this error:
#bummer
There was a problem playing this video. Please contact us through the Help section in the DisneyNow app.
CODE: 025-2501-105
There is little that can be done if this message does comes up but to simply acknowledge it, and click/ touch OK and continue, and simply try again. So don't freak out, just try again.
From a technical point of view the most likely cause for this error is because the video that was being loaded was unable to locate the resource on the remote Disney server in a timely manner, it could also have been that it was trying to load a commercial that was unable to load for the same reasons.