Samsung Galaxy Camera review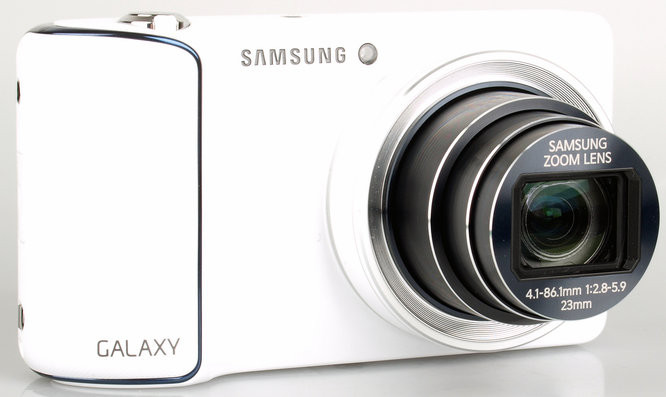 Tuesday, February 12, 2013 - 15:53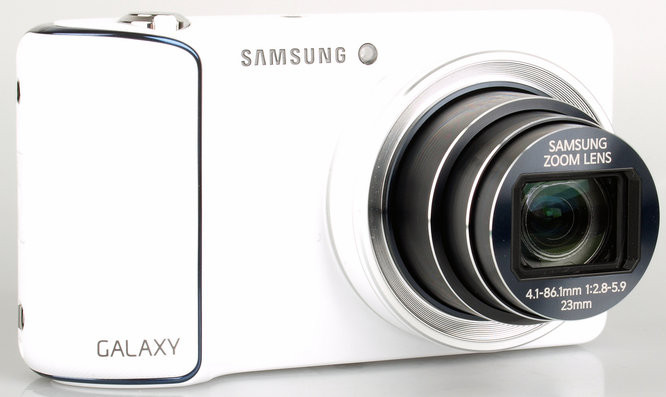 Samsung Galaxy camera is a point and shoot camera developed by Samsung electronics. Samsung Galaxy camera has a 4.8 inch screen display, 1.4 GHz Quad-Core processor, voice control. The camera runs on Android 4.1 operating system called "Jelly Bean" and has Wi-Fi support and 3G / 4G connectivity. Samsung Galaxy camera is a 16.3 mega pixel camera with 21 X optical zoom. With this awesome zooming capability user can get a close view of any object. It has all the basic features like image stabilization, self timer, face detection, smile detection etc. Along with the photos, the camera can also be used to capture videos in full High Definition (HD) format.
Samsung Galaxy camera has an excellent feature of Bluetooth connectivity which allows connecting to internet directly from your camera. Photos can be automatically uploaded to Facebook and Twitter accounts but they will be added to your private album which you can move to another album later.
Samsung Galaxy camera runs on Quad-core 1.4 GHz Cortex-A9 CPU. It is powered by Standard Li-Ion battery. The camera has 8GB internal storage of 8 GB and has 1 GB of RAM. It has expandable memory provision which can be expanded up to 64 GB via Micro SD card slot. Samsung Galaxy has a multi-touch LCD screen similar to any smart phone.
When shooting a video with a Samsung Galaxy camera, you can use Auto mode option which changes the camera settings automatically as needed, or you can use Smart Mode which provides you to select from different modes such as landscape, panorama, macro and other modes. Samsung Galaxy camera comes in following colors: White, black, red and orange.
The new Samsung Galaxy camera has an excellent feature called Optical Image Stabilization (OIS) which helps to avoid motion blurred shots, that is you can capture images even while you are moving in a car or any other vehicle or a ride. You will find the pictures captured in motion equally clear, stable and normal similar to any still image picture.
When you start the Samsung Galaxy Camera for the first time, it will bring up Android's regular setup screen, prompting you to connect to a Wi-Fi network and sign in with your Google account. Next it will ask you to sign up or sign in to, Dropbox, where you will get a bonus 48 GB of extra cloud storage which is free for 2 years.
Technical Specifications of Samsung Galaxy camera
Image pixels: 16.3 mega pixels BSI CMOS sensor
Lens: 21 x optical zoom lens
Optical image stabilization (OIS)
Display: 4.8 inch High Definition clear touch display
Operating System: Android 4.1 (Jelly Bean)
Connectivity: Wi-Fi and 3G / 4G connectivity support
Video: Full 1080p HD video recording facility
ISO: 100-3200
Smart modes: Macro, Rich Tone, Waterfall, Blue Sky, Natural green etc.
Active Voice control
Battery: 1,650 mAh Lithium Ion
Dimension (Width x Height x Depth): 128.7 x 70.8 x 19.1 mm
Weight: 305g
Conclusion:
Samsung Galaxy camera has outstanding and mind blowing features. It is an ideal camera when you are traveling, you can take far landscape photos by zooming out and to take nearby photos or close ups, you can easily zoom in. You can use Android apps to modify and share your photos, check email and surf the web. If you are a camera lover with all the latest features then according to my opinion, you must buy this camera.