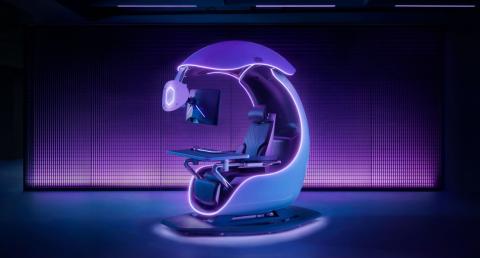 When is a gaming or office chair not just a seat? When it's a complete mechanical pod with monitors, USB ports! Cooler Master is now accepting pre-orders for its "multi-purpose station" Orb X waitlist. The Cooler Master first teased in 2021 is still a few steps away from preorders or even a release date.  The Cooler Master is not restricting the Orb X's potential audience solely to gamers. The Orb X is designed for primarily productivity but as a gamer I can tell you this is going to be awesome.

There is a lot of technology at the workstation that is used in many people's current office setups.There is space for connecting a laptop or console, depending on how you prefer to work or play, and support for a 34-inch monitor or three 27-inch monitors which is my setup.
 
Connectivity is perfect with a USB hub with two USB-C ports and four USB-A ports, one of which delivers 60 W of power. The battle station's audio system, according to Cooler Master, features two 2-inch speakers, a 5-inch woofer, and two 2-inch tweeters for surround sound which will meet the demands of the most hardcore gamers and music lovers. Additionally, there is a seat in that pod and it's made of high quality leather and it reclines. The headrest that can be adjusted and the leg rest extended just like Dad's recliner.

The Orb X, according to Cooler Master, is all about creating a "private environment," despite the fact that it is one of the most eye-catching seating arrangements ever created. "Fully automated motorized shuttle dome, keeping users away from distractions and enabling an uninterrupted privacy mode" is Cooler Master's description of the Orb X.
However, while the person in the cockpit may ignore the outside world, the workstation will undoubtedly be noticed. "Sleek and futuristic appearance... can fit in any occasion, such as business, entertainment, or gaming setup," according to Cooler Master.

The size of this thing is  74.1×74.3×82.2-inch and weighs in at 757lb so you'll need to find space for it and if you have to get it up stairs… good luck.  

To get on the waiting list and get more information on the Orb X check out: https://www.cmodx.com/orb-X