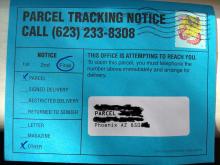 DON'T CALL THE NUMBER!!!!!
This scam is so an Arizona company called HYPERION ELITE SYSTEMS INC can get YOUR phone number to harass you with countless phone calls to try to sell you a Water Filtration Systems. Targeting Phoenix, Scottsdale, Glendale, Gilbert, Mesa, Tempe, Chandler Arizona.
How it works, Hyperion Elite Systems Inc looks for recently sold homes on publicly accessible Maricopa county databases. Name of the new owner etc, they then send via mail this fake Parcel Tracking Notice, the victim will not recognize this as a fake notice, calls the phone number on the card quotes the 6-digit number on the card employees of the company that then use it for marketing.
Don't Call: (623) 233-8308
If you have fallen victim to this scam you will have noticed they answer "Parcel Tracking Service" upon further talking with the person on the phone asking if they are UPS or Fedex they will admit that it is HYPERION ELITE SYSTEMS INC. but they will really hesitate to tell you.
While what they are doing is not against the law it is extremely unethical.
So let them know:
President: DANIEL STOICA
Hyperion Elite Systems
928 South 52nd St. # 105
Tempe AZ 85281
(877) 820-1971
ROC 327032
That Card Reads:
PARCEL TRACKING NOTICE

CALL (623) 233-8308

THIS OFFICE IS ATTEMPTING TO REACH YOU.

To claim this parcel, you must telephone the number above immediately and arrange for delivery.

Your Name

PARCEL 123456

Some Address

Phoenix AZ 85000

Notice 1st 2nd (Final)

X PARCEL

SIGNED DELIVERY

RESTRICTED DELIVERY

RETURNED TO SENDER

LETTER

MAGAZINE

OTHER

Some restrictions may apply.
Scam: 623-233-8308