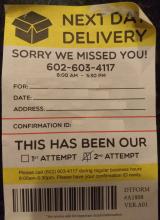 DON'T CALL THE NUMBER!!!!!
This scam is so Rescue One Air Conditioning & Heating can get your details to harass you with phone calls.
How it works, the look for recently sold homes on publicly accessible databases. Name of owner etc, will send minimum wage workers to your door to hang door hangers and the fake Package delivery note (see picture.)
That Reads:
NEXT DAY DELIVERY

SORRY WE MISSED YOU!

602-603-4117

8:00 AM - 5:30 PM

FOR: John Smith

DATE: 01/01/19

Address: 123 Smith St.

Confirmation ID: 1234567

THIS HAS BEEN OUR

1ST ATTEMPT 2ND ATTEMPT

Please call (602) 603-4117 during regular business  hours

8:00am-5:30pm Please have your confirmation ID ready.

DTFORM #A1808 VER .A01
These are being sent in Scottsdale,Glendale, Peoria, Goodyear, Tempe & Phoenix
Your information is then used by:
Rescue One Air Conditioning & Heating
Calling from: (602) 626-7799
602-737-2647
480-527-6989
602-282-6070
Also:
Pristine Environmental Solutions &  Pristine Water Softeners located in Gilbert
Also:
Arizona Energy Group
480-430-2713
They spam call on a daily basis offering free water testing.