T-Mobile Prepaid Reviews
| | |
| --- | --- |
| | Introduction: The U.S. T-Mobile network predominately uses the GSM/GPRS/EDGE 1900 MHz frequency-band, making it one of the largest 1900 MHz network in the U.S, only not far behind Sprint PCS, which uses CDMA technology. Service is available in 98 of the 100 largest markets and 268 million potential customers (POPS). In September 2008 T-Mobile began rolling out its 3G network (operating on the 1700 MHz band) to service G1 customers in 14 initial cities. T-Mobile's UMTS (4G) service is now active in over 30 major US cities and operates on dozens of devices. |
T-Mobile current phones:
The Pre-paid plans details: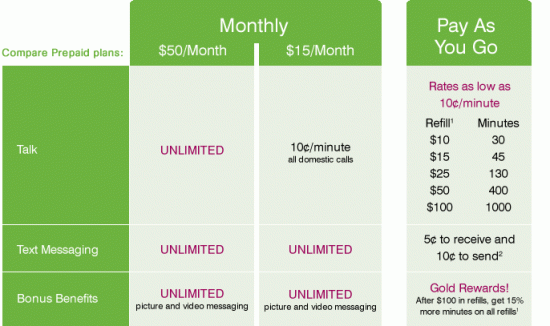 Service available for 30 days on monthly plans and 90 days (one year for Gold Rewards status) after activation/refill on Pay As You Go plan.
1.Receive 15% more minutes free on next refill card redeemed once you buy refills totaling $100. Bonus minutes already included on $100 refill card.
2.Picture and video messages are 25¢ each to send and receive.T-Mobile has grown through acquisitions of phone companies such as Aerial, APT, Digiph PCS, Eliska, General Cellular Corp, GSM Alliance, Intercel, Omnipoint, Pacific Northwest Cellular, Powertel, SOL Wireless, SunCom Wireless, Voicestream, Western PCS, GSM Facilities, and Western Wireless. T-Mobile has added many sites to its network. The T-Mobile network currently consists of 36,400 cell sites predominantly using the GSM/GPRS/EDGE 1900 MHz bands, this makes it possibly the largest 1900 MHz network in the United States. As of August 2010, T-Mobile covers over 293 million customers.

Web Data service is available to most users in the form of the older GPRS or newer EDGE. EDGE coverage is stated as being available within at least 75% of the GSM footprint. 3G service in the form of Universal Mobile Telecommunications System (UMTS) is available in most major markets. 3G (UMTS/HSPA/HSPA+) a service T-Mobile exclusively uses the AWS 1700/2100 MHz frequency-band, making it incompatible with other existing 3G UMTS/HSPA networks in the States. In January 2010, T-Mobile announced that it has upgraded its entire 3G network to HSPA 7.2Mbps which was an improvement from its previous speed of 3.6Mbps.
Coverage map: